IGAMING PLATFORM
It's time to take your gaming business to the next level as the future of gaming is here.Centrivo, the most powerful and flexible gaming platform, centralizing all aspects of your gaming business. It's more than a game publisher, distribution platform, and analytics provider - it's a centric hub for all things gaming.
DEMO
FEATURES

Brand Management
Centrivo is a user-oriented, fast, and intuitive brand management tool, providing a one-stop shop for comprehensive configurations of the brands.As one of the brand configurations, Responsible gaming ensures player safety and security by setting boundaries on players' accounts, managing time/money limits, and mandatory breaks.
Bonus Management
The future of iGaming pleasure starts here. This revolutionary platform puts the customer first with a wide range of interesting bonuses that are designed to keep their players hooked for hours rewarding players for their loyalty and commitment.
Dashboard Management
Dashboard Management is a solution to monitor and analyze your business data. With a powerful dashboard management system, real-time progress, key metrics, and report on KPIs and trends can be tracked, otherwise, they may go unnoticed.
Player Management
Centrivo is designed to help manage the entire player life cycle through their journey. It is the next generation of the player management system, which provides categorization mechanisms, automation per player, brand, segment, and much more by enriching the player base.
Tools And Automation
Centrivo delivers a remarkable tool and does all the heavy lifting for you, automating manual tasks through a combination of triggers and conditions for any given scenario. The result is a system, that performs in real-time without any human intervention.
Risk Management
An extensive selection of risk management tools and practices are part of Centrivo's fully functional iGaming Platform. Unusual login detection, payment security procedures, similar accounts detection and much more will prevent your company against revenue loss.
CMS
The content management system (CMS) is responsible for the creation, editing, and management of content on your website. Here, in the Translations section, you can add new languages and manage translations by transferring existing content from one language to another.
User Management
User Management is the core and crucial section of the Centrivo platform with easy navigation and advanced permission options. Forming a specific permission set based on roles and groups is the centric functionality of user management.
Communications
The Communications section is designed to manage all the messages and notifications that are sent out to players. A unique and customized template is an option to deliver well-defined messages such as notifications, announcements, and even advertisements to players.
BUILDER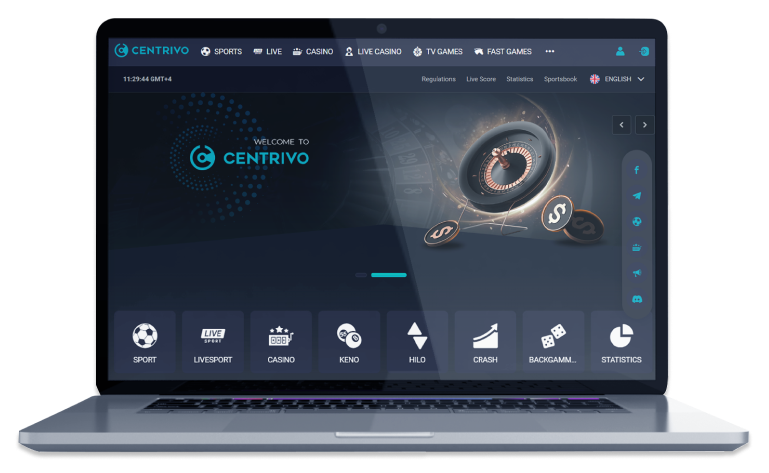 Website Templates
It is SIMPLE and FAST to get high-quality igaming and betting website within several minutes by using pre-defined templates and adjusting it to every business needs. The dynamic tools will assist on personalizing the brand with already created templates. All these features are in place to assist on website template creation:
Advanced Color panel for Solid and Gradient colors
Logos, Background and Banner Management tools
Promotions and Announcement features
Menus and Forms Management tools and much more
Popup Management
Popup Management enables to make powerful marketing campaigns or to highlight the special offers to website visitors. Our default templates provide a stylish base to build a popup in just a few clicks without a developer or a designer just by giving a name and a content to pop-up. Apart from this, the completely new contextual pop-up can be shaped and customized using all the essential tools.
Website Business Rules
Automate your website business processes and reach the right audience, at the right time with the right message depending on your players behavior. Welcome, Marketing or any other message pop-ups can be opened considering the behavior of the players, such as login/log out, opening a page, and more. Moreover, rules can be created and executed for the specific group of people, targeting them based on various conditions: device type, location, and more.
Mobile Friendly solutions
Our features and tools have more dynamic mobile first solutions. Mobile Navigation bar, Access Button allow to have the mobile view of the website just like APP to enhance the product content and function structure and hierarchy. It helps to interact easily with the website and guides the website visitors in the right direction.
Footer Management
Our Widget Base solution makes the Dynamic footer even more dynamic. Footer management section provides all the tools and techniques to construct fully customized website footer. The website footer can be created either from scratch or by modifying the existing one with the help of Widget panel elements. Out of Widget Panel choose the needed elements and start to design the footer with drag and drop technique.